PROFESSIONAL DEVELOPMENT: ATTENDING CONFERENCES
It begins this week, Wednesday, June 7, 2022.  What is IT?
AIA Conference on Architecture 2023 (A'23)
June 7 – 10, 2022
San Franscisco, CA
https://conferenceonarchitecture.com/
If you are an architecture student or recently graduated, you would be well-served to attend.  It may be difficult as the conference begins this week but do plan to attend at some point in your career.
I attended my first AIA Conference in 1986 in San Antonio, TX.  My highlight was visiting San Antonio for the first time and meeting I. M. Pei, the AIA Gold Medalist.  I am so pleased that I was able to attend; so much so that I have attended an additional eight (8) conferences from 2006 – 2014.
As noted on the website, the AIA Conference highlights Seminars, Practicuum, Tours, Expo CE
Seminars: Explore 425+ sessionsA'23 has an incomparable schedule! Filter by date, track, type, CE hours, or topic.
Practicuum: Develop practical knowledge and skills through workshop style sessions
Tours: The iconic architecture of San Francisco is nothing short of spectacular. Take it all in with expertly curated, architect-led tours of the city's high-profile, historic, and avant-garde projects. Check the schedule to see the full list of 100+ tours.
Expo CE: Get ready for a new expo experience. Now owned by AIA, the Architecture Expo at A'23 is designed for networking, collaboration, and discovery. Nowhere else connects you to such a diverse range of expertise and thought leadership while giving you access to the full product experience from 500+ of the building product manufacturers architecture professionals rely on most. More than 100 new brands will be on display offering business services, innovative products, software, technology, and more.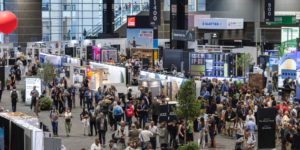 Keynotes: The designed world is getting more complex. This conference delivers the path forward. Hear from some of the biggest names in architecture, design, and beyond who are shaping the future.
Also, do not forget the formal social events and those not scheduled.  Did you know that most architecture programs have events for their alumni — you would be more than welcome as a student.
Of course, there are other conventions / conferences to consider attending including state and regional AIA conferences.  Whatever you do, attend to learn more about architecture, meet new professionals who will become friends for life and visit new cities across the country and world.
NOMA Conference – Building Bridges
October 2023
Portland, OR
https://www.noma.net/conference/
Greenbuild
September 26 – 29, 2023
Washington, DC
https://informaconnect.com/greenbuild/expo/
Of course, you should definitely attend the AIAS Forum held next January.
AIAS Forum
Do you know of others — let us know.