ARCHITECTURE SUMMER PROGRAM SURVEY RESULTS
Many may not know but ARCHCareersGuide.com and its predecessor – ARCHCareers.org have been providing its list of Architecture Summer Programs since 2008; thus, this year's listing is our 14th year of documenting and listing this valuable information.
Architecture Summer Program Listing
https://www.archcareersguide.com/summer/
Via Google Maps
https://www.google.com/maps/d/u/0/edit?hl=en&mid=1bih6R7t9RQmUQpVat1TyTReT5qCQvB0a&ll=39.136011215272035%2C-84.54040145634801&z=11
But we had never embarked on a survey of the programs.  Well, in April that changed and below are the results.  In the middle of April, a survey on the Architecture Summer Programs was sent to the 92 contact individuals we had listed for the programs we listed for 2021.  Two additional reminders were sent; in total, we received surveys from 45 of the programs, just less than half of the programs.
Remember, when reviewing these results, they are ONLY from those that returned surveys; a number of programs did not reply to the survey.
Program Offered: Perhaps not surprisingly, most of the programs have been offered over 11 years (52%); still a number of programs have been offered from 6-10 years (21%).  What was surprising was that two programs (4%) were launched this year – the University of Hartford and a new program from Cooper Union.
Audience of Program: To be expected, most of the programs targeted the High School audience (81%).  A reasonable number are also targeted to current College students (27%) and Adult students.  Of those that replied, a smaller number targeted their program to students pre-high school (10%).  Remember, many of the programs targeted more than one of these audience groups.
Format of Program: While some programs needed to cancel or move to online formats for Summer 2020 due to the pandemic, would the same be true to 2021.  Clearly, based on the responses, the answer is a resounding YES.  Over three-quarters will be holding their program online / virtual (77%); in addition, a handful of programs will host students in person via residential (15%) and day formats (21%).
However, some programs may be adjusting their format depending on the changing nature of the pandemic.  Be sure to confirm the finalized format with the program prior to registering.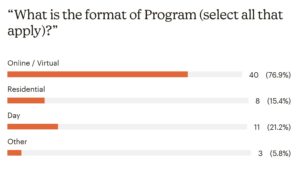 Academic Credit: Not surprisingly, most of the programs (65%) do NOT offer academic credit but a handful do provide academic credit.  Be sure to fully understand who the credit may or may not apply to another institution.  Also, if credit is provided, the program is probably graded.
Number of Expected Students: The programs surveyed are expected the full spectrum of students; almost an equal number of programs are expecting between 15-24 students (22%), 25-49 (24%) and 51-99 (28%).  The size of the program can impact your experience so inquire about the number of expected students.
Cost: The cost of the programs ranges from FREE to $5,000; because many programs are using a digital format, the cost of many programs has been reduced.  Be sure to review the full costs as some programs have materials / supplies to purchase.
What did we learn from the results?  Probably what was learned is that there is an Architecture Summer Program for you and your needs – whether you wish to attend for a week or much longer; whether you want to attend from home.  You can also find a program that meets your budget.
Bottom line: Attend the Architecture Summer Program of your choice that fits your need to become an architect.