CAREER SERVICES: CAMPUS RESOURCE
A reminder that we launched our newest resource, Careers in Architecture and Beyond. Be sure to download the full publication at the following:
https://www.archcareersguide.com/careers-in-architecture-beyond/
QUESTION – When you have questions related to your career (job) search, where do you seek assistance?  Do you ask your classmates, faculty, or someone else?
Well, let's review the answers –
Classmates: In actuality, your classmates are a great source.  You can and should tap into their experience and insight.  As is possible, connect with students further into the program.  Ask to see their resume and portfolio; inquire if they have worked a position in a firm.  Seek their guidance.
Faculty: Just like classmates, your faculty are an excellent source for information on your career.  Faculty are more than willing to review your job search resources (resume and portfolio) and may have referrals to architecture firms.
Alumni: Another source worth mentioning is alumni.  Obviously, they are where you want to be – in the profession and can serve as contacts for possible leads.  In certain instances, they may have been your classmate in the previous year.
Now, we want to share one of the best resources and probably the least utilized by architecture students – Career Services.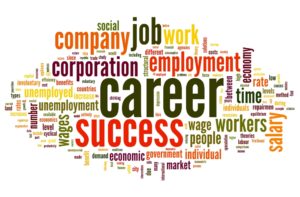 Career Services: Most likely, your institution has a centralized office to assist you with career development.  Often with different names, these offices offer a myriad of services to assist you.  Probably best known for job listings, the career services office is there for so much more.
To get you started, here is an example of services offered:
Exploring majors and careers
Secure a job or internship
Host on-campus interview with interested employers.
Assist with job search skills – cover letters, resumes, interviewing, networking
Graduate School
Career Fairs
The issue with Career Services is that MOST architecture students have never utilized the services of their campus office.  Probably for many different reasons, least of which is that architecture firms do not post positions or interview on-campus.
If you are fortunate, your architecture program may have a dedicated staff to your career development.  However, by our review only about 10-20 programs have such a luxury.
As we started with this essay, "When you have questions related to your career (job) search, where do you seek assistance?"
You should approach all the answers presented – classmates, faculty, and alumni but we will suggest that you strongly consider seeking assistance from your campus' career services office.
Do you need assistance with your career?  You can also contact us for help — archcareersguide@gmail.com