VIRTUAL DESIGN STUDIO
As you may know, many of the Architecture Summer Programs are transitioning to an online format; as a result, you will most likely participate in a virtual design studio.  To learn more, we asked Assistant Professor Danielle S. Willkens, PhD of Georgia Tech to provide more insight.
Virtual Design Studio Experience
If you are interested in learning more about architecture school and the profession, a virtual design studio experience can be a beneficial way to explore the design process. The architectural profession, like many others, is increasingly digitized: from the virtual exploration of sites and high-tech surveys using drones and 3D scanners to online collaborations related to the creation of digital models and drawing sets. Client and colleague meetings can happen across nations and time zones through online platforms, using applications to digitally markup drawings and virtual reality platforms to explore sites and project proposals.
Working Synchronously
As a student in a virtual design studio, be prepared to work synchronously (together, at the same time) and asynchronously (independently, but working towards a common deadline or deliverable). For synchronous work, you will be expected to attend online meetings and participate in discussions and online 'pin-up' boards that will allow you to share ideas, precedents, and original project proposals with your peers. Make sure that you are prompt and prepared for these sessions since time 'together' in a virtual design studio is extremely important. To make the most of this precious time, ensure that you're working in an area that is free from distractions, you have a solid internet connection, and a comfortable set of headphones will be useful to eliminate background noise, for both you and your peers.
Working Asynchronously
A portion of your time in a virtual design studio will consist of time working asynchronously. Your instructor, or the program, may provide guidance for how much time they expect you to be working independently. However, if this is not provided you may want to follow a collegiate model: for every hour you spend in a face-to-face setting, you should spend about three hours working outside of the 'classroom.'
In the virtual design studio, you will probably find yourself moving between synchronous and asynchronous work:
explore a concept or skill together online
spend time to work on cultivating that skill or idea independently through an assignment or project, and
explore each other's work together to discuss challenges and opportunities for further development.
There is a cyclic arrangement between learning, making, and critique; in architecture school this is extremely important, and we call it the "iterative process."
In a virtual design studio, you will be expected to exercise your independent research and time management skills. It will be important to be proactive and communicative with your design critic (main teacher) and any teaching assistants, as well as your peers.
In a virtual setting, it can be easy to be a passive student: make sure that you turn on your camera in virtual meetings, actively explore all the posts in online forums, reach out to peers to ask them questions about their ideas and design intentions, and make a schedule to devote dedicated time to your work. The more you invest in discussions and other interactive online platforms, the more you will learn from the process and, more importantly, from your teachers and peers.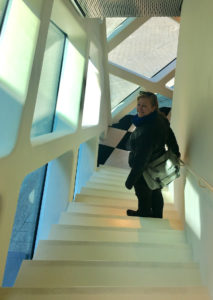 Danielle S. Willkens, PhD, Assoc. AIA, FRSA, LEED AP BD+C
Assistant Professor, Georgia Institute of Technology
Georgia Institute of Technology – Atlanta, GA – Pre-College Summer Program
June 14 – 26, July 12 – 24, 2020 (2 weeks) – High School
Now that you know more about what to expect from a virtual design studio, be sure to explore the many Architecture Summer Programs and participate this coming summer.