SUMMER PROGRAMS IN ARCHITECTURE 2022: FACTORS TO CONSIDER
As winter ends and spring begins, we begin to seriously think about summer.  What will you do this coming summer?
As we hope you already know, ARCHCareersGuide has released its annual Architecture Summer Programs listing.   Visit the following website or select the Summer Programs on the menu.
https://www.archcareersguide.com/summer/
At this point, the list has over 150 programs from over 125 institutions from across the country and a handful of international programs.
Do you want to be an architect? Do you want to study architecture?  Are you ready to start your path to becoming an architect?  If so, consider attending one of the over 150 architecture summer programs across the country and abroad.  Participating in one of these exciting, hands-on programs is a tremendous way to learn more about architecture as a major, and as a career path.
But, how do you select the most appropriate program for YOU?
Below are some factors to consider as you research which program may be best for you.
Audience: Grad School, High School, College?
While many summer programs are intended for elementary, middle, and high school students, there do exist some for college students looking to pursue architecture.
If you are younger than high school age, there are programs for you.  Below are two; there are others on the full listing:
Andrews University – Renaissance Kids
https://www.andrews.edu/said/renaissance-kids
Renaissance Kids, an online Architecture Experience for Kids programs for kids ages 5-16.  In classes, Architecture Professor, Mark Moreno, engages kids in live and recorded Zoom classes to share decades of expertise with fun and educational design/drawing/build activities.
Southern Illinois University – Architecture Camp
https://conferenceservices.siu.edu/camps-youth-programs/architecture-camp.php
Offers programs for students in grades 4-6 (Kids Architecture and grades 7-9 (Middle School Architecture and grades 10-12(High School); all are a single week in length.
If you are currently in college or recently graduated, here a few programs for you:
Illinois Institute of Technology – INTROArch
https://arch.iit.edu/study/introarch
A program of the College of Architecture at IIT, the emphasis of the workshop is on constructing a cohesive investigative process that integrates the fundamental techniques of architectural representation with a set of critical discursive practices – a skill set essential for navigating the architectural studio.
California at Berkeley, University of – Summer Institute
https://ced.berkeley.edu/academics/summer-programs/summer-institute/
Summer Institute students explore the methods and theories of the field of environmental design, experience the culture of design and planning studios, and develop a portfolio for graduate school application with the expert guidance of faculty mentors.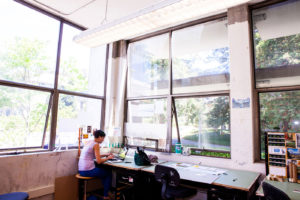 Length of Program & Format
One important factor to consider is the length of the program.  When viewing the listing of programs, you will notice that the length of programs ranges from less than a week to as long as a full six weeks.
Many summer programs offered by a college or university provide overnight housing in a residence hall; activities are offered during the evening hours.  Some programs are offered only during the day, typically from 9:00am – 5:00pm. Obviously, you would need to reside near the program in order to participate.
Missouri Kansas City, University of – Design Discovery 2022
https://info.umkc.edu/aupd/design-discovery-program/
Design Discovery 2022 is only two days in length (June 6 – 7, 2022)
Cornell University— Introduction to Architecture: Design Studio
https://sce.cornell.edu/precollege/roster/arch-1110
On the opposite end of the spectrum is Cornell which is a full six weeks; through the program, students earn six credits through two courses.
Other programs of similar length include Columbia University.  Most programs are typically a week or two.
Cost & Scholarships
A critical factor to consider is cost; summer programs will vary in cost.  Some programs may cost more than others because they provide college credit.  Also, some programs charge a single program fee but that is all inclusive (program fee, housing, food, supplies, etc.), while others charge only the program fee and other costs are add-ons. Be sure to read carefully and if you have any questions, contact the program directly.
As you view the listings, we have provided the cost of the program but be sure to check the website of each program to obtain the details.  Some programs are offered at no charge while others require a fee at varying levels from a few hundred or thousand dollars.
Also, be sure to check if there are scholarships and/or financial aid available.  Many summer programs offer scholarships plus they may provide financial assistance.
Find the Perfect Summer Architecture Program for You
In addition to summer programs, many chapters of the American Institute of Architects and other institutions sponsor programs and events targeted at aspiring architects; these programs may include workshops, tours, design competitions, etc.  Check out this website for more details on some of these programs.
https://www.archcareersguide.com/academicyear/