Below is another in the series of profiles of individuals who have chosen a career beyond architecture from Becoming an Architect: A Guide to Careers in Design. In this case, H. Alan Brangman has chosen "University Architect." Just recently, he became President and CEO of Brangman Consulting, Inc. after 25 years of experience working with multiple institutions of higher education in senior administrative leadership roles.
Succeeding in the Built Environment
H. Alan Brangman, AIA, Vice President of Facilities, Real Estate and Auxiliary Services
University of Delaware, Newark, Delaware
Why and how did you become an architect?
I became an architect because I have always had a fascination with building things.
Why and how did you decide on which school to attend for your architecture degree? What degree(s) do you possess?
I initially went to the University of New Hampshire to study civil engineering. At the beginning of my sophomore year, I met an art professor who had been a former instructor at Cornell University. He suggested that I transfer to Cornell. My degree is the bachelor of architecture.
What has been your greatest challenge as an architect?
My greatest challenge as an architect has and continues to be convincing other professionals that architects are capable of doing much more than just architecture.
How is working as a university architect different from the more traditional role of an architect?
My job responsibilities are more in line with those of a principal in a real estate development firm. I am responsible not only for the hiring and oversight of design and planning consultants, providing program, planning, and design oversight for all university facilities but also for all real-estate-related matters.
You have worked as a University architect at Georgetown University, University of Delaware, and Howard University; how have you responsibilities changed with each position?
My responsibilities at the various universities that I have worked for have been generally the same when it comes to oversight of the design and planning world. By that I mean, each campus has provided me with an opportunity to oversee and manage the design and planning of not only new projects but also over any renovations that needed to occur on campus, both large and small in scale. The one change from campus to campus is that of real estate oversight.
I now have that responsibility again at Howard as I did at Georgetown. At the University of Delaware, I had a colleague who was responsible for Real Estate. The other major change in responsibility is that here at Howard I am also responsible to Facilities Management, Auxiliary Services (dining services, mail services, bookstore), Transportation and Parking Services, the Office of Sustainability, and Environmental Health & Safety. So my field of influence has widened with my latest change in jobs. I am now back at the University of Delaware and responsible for all the disciplines that I had oversight for at Howard.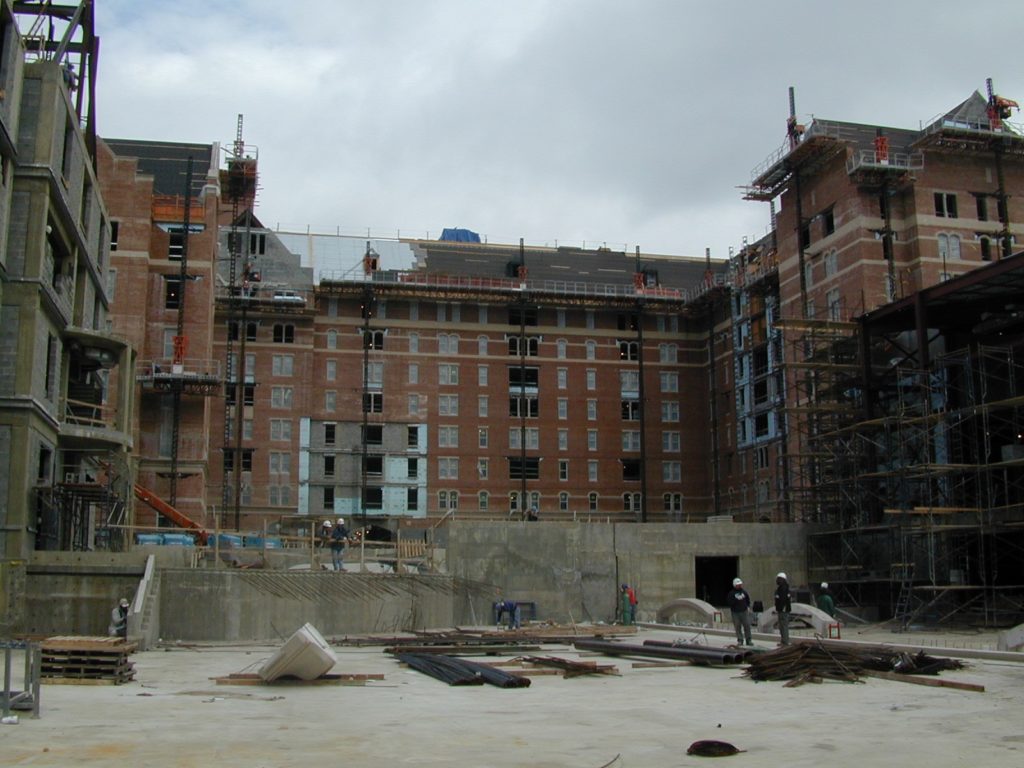 How and why did you pursue what might be considered a nontraditional career path as opposed to a more traditional one?
Initially, I did so because I had an interest in something more than just designing buildings. I spent nine years with the Oliver T. Carr Company, a real estate development company in Washington, DC. That opportunity opened my eyes to the breadth of the built environment and provided me with a much more global perspective on place making.
During your career, you worked in the Design Arts Program for the National Endowment for the Arts, an independent agency of the federal government. Can you describe your role in this agency?
I was the deputy director of the Design Arts Program. The program was primarily responsible for grant making and supporting initiatives to spread the word about the benefits of good design. The initiatives that I enjoyed the most were:
· Mayors Institute on City Design, a series of national and regional forums dedicated to improving the understanding of the design of American cities through a forum that brought together of mayors and urban design professionals.
· Your Town — Designing Its Future, regional workshops geared to teaching the importance of design to those who can influence and make decisions about the way rural communities will look and work in the future.
· Design For Housing Initiative, a national workshop dedicated to bringing together representatives from the housing delivery system to spur a better understanding of "Good Design" and its application to affordable housing.
· Presidential Design Awards, an honor award program done in conjunction with the White House given every four years by the president to projects that came about as a result of federal involvement.
The first three initiatives were partnered with universities that had schools of design such as University of Virginia, MIT, University of Minnesota, Tulane, UC Berkeley, Georgia Tech, and University of Maryland. These initiatives were typically run as a three-day seminar and not only involved decision makers like mayors, in the case of the Mayors Institute, but also involved nationally renowned design professionals, planners, landscape architects, real estate developers, economists, sociologists, and educators.
Figure 4.7 SW Quadrangle, Georgetown University, Washington, DC, Architect: Robert A. M. Stern/eyp. [4-AB-4-SWQ Quad copy 2.tif]
PHOTOGRAPHER: H. ALAN BRANGMAN, AIA.
Why did you pursue the additional credentials of a Real Estate Development Primer Certificate at Harvard Graduate School of Design and Wharton School of Business?
When I started my career in real estate development, I had been counseled to consider obtaining an M.B.A. At the time I did not want to commit the time required to return to graduate school. Besides, the president of the firm did not have a business degree and seemed to be doing quite fine. I decided to pursue the path of learning through experience. Besides I had been schooled as an architect and architects are taught to solve problems. I was able to manage any of the issues or problems that were part of my job responsibilities quite well. After having gotten a few years under my belt, I took the primer courses as a way of confirming what I had learned. It worked.
What is the most/least satisfying part of your job?
The least satisfying aspect of my current job is the pace at which things are accomplished in an academic environment—very slow. Entrepreneurship is not something that is typically associated with academia.
Who or what experience has been a major influence on your career?
Bob Smith, AIA, associate principal, RTKL, was very influential in encouraging me in 1979 to look to real estate development as a possible career to pursue.
Oliver T. Carr, Jr., The Oliver T. Carr Company, was a mentor in my early years; through my employment at Carr. He provided me with the opportunity to preside over 5,000,000 gross square feet of commercial development in downtown Washington, DC.