UNIVERSITY OF MARYLAND – SCHOOL OF ARCHITECTURE, PLANNING AND PRESERVATION
DISCOVER ARCHITECTURE – SUMMER PROGRAM IN ARCHITECTURE
"As the lead instructor since 2019, I can state that it is an extremely rewarding experience working with the students. They are so eager to learn about architecture and develop their drawing and compositional skills. Students experiment with abstraction and various media; plus, they explore spatial relationships within the built environment.  At the end of the course, students leave with a deep appreciation for architecture and related design fields."
–Michael C. Abrams, Clinical Associate Professor, University of Maryland
Course Description
The intent of this course is to expose the student to the studio environment for learning and explore varied topics related to design of the built world. The studio will examine fundamental topics and skills related to architecture and design, such as sketching, abstraction, diagramming, drafting, model-making, and design. The studio design projects will apply ideas and concepts introduced in lectures, readings and online tutorials. The design projects are both analytic and synthetic in nature.
The explicit goals of the studio are:
To explore the discipline of architecture
Architecture is a complex and defining element of every culture. Our work this term will be to explore architecture. Architecture is a three-dimensional reality which possesses a conceptual and perceptual order. The architectural design process is intent on developing a response to a design problem by coming to terms with communicating the conceptual and perceptual agenda of the architect.
To explore the discipline
of architecture the student will be encouraged to develop a methodology for their design process. It is critical that each student develop their own rigorous method that reflects their overall conceptual agenda driving their work.
To promote visual thinking
Most people tend to rely on verbal skills in order to communicate. The design process and the communication of ideas about architecture demands a different thought process based on visual thinking.
To develop analytic skills
It is necessary to develop the means to analyze architecture in a meaningful way, one that relies on intelligent and analytical recording of two and three-dimensional information in a way that it can be understood conceptually and reinterpreted to inform the synthetic process of design.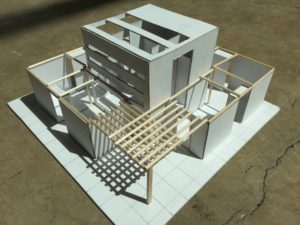 To learn some of the conventions of architectural representation
There is a specific visual language by which architects communicate, understand and investigate works of architecture. Some of these will be presented and investigated in this course.
To enhance cultural awareness
In order to understand architecture's role in culture generally, we will study various cultural conditions as they impact the built environment we inhabit, from it cities to its landscapes. This study will facilitate comparison with and discussion of both European and North American built environments as important points of reference in western culture.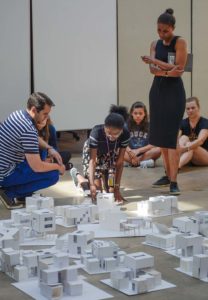 FACULTY BIO:
Michael C. Abrams is a licensed architect and Associate Clinical Professor at the University of Maryland-College Park. He has taught design and drawing at several colleges and universities across the United States, including Catholica University of America and George Washington University. Mr. Abrams obtained a Master of Architecture (M. ARCH) from the University of Michigan-Ann Arbor and a Bachelor in Environmental Design (BED) from the University of Puerto Rico. He has spent several years working in the profession in the United States, Spain, and Italy.
DETAILS:
When: July 12 – 29, 2021
Online Course Meeting Times and Location(s):
Days:    Mondays through Thursdays   July 12 – 29, 2021 (3 weeks)
Lecture (synchronous) 10:00AM -11:00AM   MTW (no lectures: Thursdays)
Lunch Break 11:00AM – 12:00PM MTW
Lab (synchronous) 12:00PM – 3:00PM    MTWTh
Cost: $1475; plus, lab materials cost purchased separately by each student.
Deadline: Apply by June 1, 2021
Apply: https://oes.umd.edu/pre-college-programs/terp-young-scholars-online/courses
Questions? Contact https://oes.umd.edu/contact