SUMMER PROGRAM PROFILES
Last week, ARCHCareersGuide.com published its annual listing of Architecture Summer Programs.
Now, over the coming months, we will highlight some of the many summer programs by simply reviewing their websites.
First, do you want to be an architect? Do you want to study architecture?  Are you ready to start your path to becoming an architect?  If so, consider attending one of the many architecture summer programs including those listed from across the country and abroad.  Participating in one of these exciting, hands-on programs is a probably the best ways to learn more about architecture as a major, and as a career path.
For this week, we will profile the following:
Cooper Union – New York, NY – Introduction to Architecture (High School)
Andrews University – Berrien Springs, MI – Renaissance Kids: Household Edition
Do note that any information is taken from the program's website.  With Cooper Union and Andrews University, both programs are online.  Cooper Union's five-week program will offer live synchronous sessions each day during the week from 11:00am – 2:00pm EDT from July 5 – August 6, 2021.  Cooper Union also offers a parallel program for college students albeit for four weeks.  Details below are from the High School program of Cooper Union.
Renaissance Kids at Andrews University is targeted at a younger age group, namely, ages 5 – 16.  Plus, it is a subscription service to access live Zoom presentations and materials.  Their website has great visuals from past programs pre-COVID.
ONLINE: Cooper Union – New York, NY – Introduction to Architecture
http://cooper.edu/architecture/summer-programs/hs-introduction-architecture
July 5 – August 6, 2021 (5 weeks) – High School (Rising 11th and 12th grade)
VIMEO: 05.20.20 Introduction to Architecture Online: Information Session
Program Description: In light of the spread of COVID-19 in New York City, The Irwin S. Chanin School of Architecture of The Cooper Union is proud to announce our 2021 summer intensive program that features a virtual curriculum accessible to students worldwide. The pleasure of making and experimentation are fundamental to our discovery of architecture and the innovation of the discipline, as well as a deeply thoughtful form of social and cultural dialogue where the imaginary becomes possible.
This five-week intensive is designed to familiarize students with architectural thinking and design while developing a portfolio of projects. Students who attend the program and successfully complete all of the assignments will receive an official Certificate of Completion from The Cooper Union
The program will include lectures, workshops and tutorials by Cooper faculty including Mersiha Veledar, James Lowder, Dean Nader Tehrani, Elizabeth O'Donnell, Ted Baab and Lauren Kogod amongst others. In line with our professional curriculum in architecture, the core of the program is the design and critique process. Mornings will consist of workshops, seminars and learning about the history, contexts, and processes forming the architectural discipline. Students will work remotely while engaging virtually with each other and the faculty. Exercises will focus on the key principles of architectural design: geometry, structure and function. The goal of this intensive is for students to learn how to translate their ideas into three-dimensional form.
Students will receive instruction in a variety of representational tools and media: digital drawing and model-making techniques, analysis and representation, computer modeling and fabrication. Weekly lectures will introduce some of the great works in the history of architecture.
Over the course of the program, the students will develop a set of projects through models and drawings collected into a portfolio. The design faculty will work with each student, individually and as a group, to review and edit their projects, resulting in a portfolio that may be used as part of the college application process.
Our pedagogy excels in radical innovation and our ability to synthesize multiple parameters into a robust project, with detailed attention to how to see the world beyond. Our students will gain the following:
The ability to think precisely through the use of descriptive geometry.
Advanced skills and facility between hybrid digital tools in the making of architecture.
Technical proficiency in design software and hardware
Practice and vocabulary articulating the contextual, formal, and conceptual aspects of their projects.
A body of work for your college admission portfolio.
Exposure to a dedicated college faculty mentorship where lectures, tutorials, and critical discourse become key in future creative advancement.
Intellectual and critical thinking skills through college-level coursework.
The opportunity to enter the architecture learning community and interact with students from all over the world with diverse creative interests.
Make professional connections through unprecedented accessibility to an international jury of architecture faculty and critics.
Course Timeline: Weekly design problems will be structured as spatial games with specific rules to enable students to encounter new ways of seeing, thinking, and making.
Week 1     Software Variations: Points and Lines
Week 2     Modelling Plasticity: Object Volumes
Week 3     Hybrid Systems [Weeks 1 and 2 in tandem]
Week 4     Collaged Fabrication
Week 5     Final Reviews
Cost and Fees: Program Tuition: $2,980. Application Fee: $40* Students will be responsible for purchasing supplies.  Students are required to have access to a PC or MAC computer for the duration of the summer program that meets system requirements to run Rhino and Adobe Creative Suite.
ONLINE: *Andrews University – Berrien Springs, MI – Renaissance Kids: Household Edition
Active year-round – Ages 5 – 16
RENAISSANCE KIDS ASPIRES TO MAKE COMPLEX IDEAS ACCESSIBLE TO YOUNG MINDS BY PROVIDING ACTIVITIES AND TOOLS FOR EXPLORING RELATIONSHIPS BETWEEN PEOPLE AND THE PHYSICAL WORLD.
Program Description: Household Edition a creative experience remotely delivered in your home. Subscribers will receive access to interactive live Zoom sessions with Professionals, along with DIY activities, design and creativity tutorials, and a collection of sketches from designers and architects. All Zoom sessions are recorded for replay.
Access resource content at any time during your monthly subscription.
Access Live Zoom times:
Sundays, 3:00pm to 4:00pm EST
Tuesdays, 7:00pm to 8:00pm EST
Fridays, 9:00am to 10:00am EST
Subscriptions allow you to join any or all live Zoom sessions
Cost: Each Household subscription is $40/month.
GOALS: CREATIVITY FROM HOME
tackle activities w/ ideation & design techniques.
learn drawing & model building skills.
look at challenges from varied vantage points.
use our hands & tools as much as possible. 
make physical things for more holistic understandings.
work together, critique together, & more!
engage in community services.
Note: Save up on paper scraps like cereal boxes, toilet paper, and paper towel rolls, and any other found objects for constructing models. Students will always be free to creatively interpret projects from their own resources
Plus, the faculty member behind Renaissance Kids, Mark Moreno and Sienna Moreno has recently published the book Architecture for Children which can be preordered on Amazon.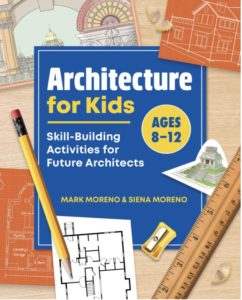 Architecture for Kids: Skill-Building Activities for Future Architects (Ages 8-12)
If you desire more information on either of these programs, do visit the website and contact each program directly.
Check out all the listing of Architecture Summer Program at the following:
Architecture Summer Programs
https://www.archcareersguide.com/summer/
We wish you well in your quest to become an architect; do let us know how we can help you.