Below is a special guest entry written by Ms. Carolyn Muraskin. who graduated with a B.S. in Architecture from the University of Maryland. Learn from her career trajectory. — Thanks, Carolyn!
Had the pleasure of having Carolyn as a student during her time at the University of Maryland.
As an architecture student, have you questioned your career path to become an architect?  We would guess that most if not all have second guessed their decision to pursue architecture school.  But that is normal.  We strongly encourage you to persevere to complete your degree as there are a myriad of career paths beyond architecture for you once you have your architecture degree as demonstrated in the career story below.
Finally, if you are ever in Washington, DC, we strongly encourage to contact DC Design Tours for a historical tour of Washington DC focused on architecture and design.
At the start of every tour, I introduce myself with the following: "After five years as an architect, I discovered I would rather talk about buildings than draw them." That statement is a simple but accurate description of my alternative career path, from architectural designer to tour entrepreneur.
From my middle school days, I was set on becoming an architect. My high school path, college application choices, and extracurricular activities were largely planned around that goal.
But, when the rubber met the road, or rather, when my pencil hit the drafting desk, doubt began to creep in. I enjoyed the drawing, crafting, and model building, but not the long hours, competitive attitude, or culture of communal struggle that seemed endemic to the studio experience. What I loved most of all were my courses about the history of the built environment.
As I navigated my first career position, a design internship during college, my passion for architectural history became clearer. Despite that, after graduation I followed a fairly traditional career path, working first in project management, then residential design, and finally at a boutique mixed-use design firm. All along, I wondered whether my middle school goals still fit my developing interests.
While working at a design firm, I began volunteering for the National Park Service and National Building Museum, educating students and the public about Washington's built environment. Talking to tourists about the design of the Nation's Capital proved much more rewarding that my desk job. When visitors learned I had a background in architecture, they asked a whole new set of questions, showing real interest in the design of our Capital city. This sparked an idea—to tell the story of Washington's design, or as our slogan goes, "to explore the history behind the brick and mortar." My interest in architecture, love of history, and outgoing personality began to coalesce into a new and out-of-the-box career option as a tour guide.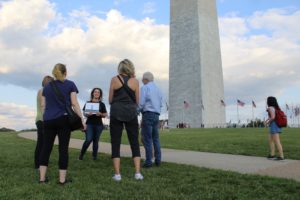 Surprisingly, no other tour agency offers architectural tours of Washington DC. Our Capital has an underappreciated architectural richness– beyond the white neoclassical facades of downtown Washington lies a whole universe of design diversity, from the colonial streets of Historic Georgetown, to the Gilded Age palaces of Embassy Row, and much more. So, in March 2015, with no previous interest or knowledge in starting a business, I launched DC Design Tours to tell that story. Once the company became financially viable, I jumped studio ship entirely and dove headfirst into the new and complex world of Washington tourism.
Despite ending up far afield from my original plan of becoming an architect, I am very grateful for my design degree. My schooling provided the foundation and clout to start an architectural tour company, now going strong with my small team of guides, all with their own design backgrounds. The steep learning curve of entrepreneurship has not been an easy mountain to climb, but my architectural education, love of storytelling, and enthusiasm for the built environment has pushed me upward and onward with my small business.
Find me and my team at www.dcdesigntours.com.
Carolyn Muraskin, Small Business Owner and Tour Guide
Washington, DC