KID ARCHITECT BRAND
At ARCHCareersGuide.com, we are extremely excited about today's guest author, Kid Architect.  As you know, our website is about helping you launch your journey in becoming an architect.  Well, Kid Architect does the same but with K-12 students.  Be sure to obtain the books as listed below or better yet – contact the Kid Architect team.
The Kid Architect Brand is designed to support the AIA goal of creating the critical pipeline of young K-12 students who will become our future architects.  In addition, the development of this pipeline of young students must include the engagement, initiatives and goals that value the Equity, Diversity, and Inclusion for people of all backgrounds.
There are four components of the Kid Architect Brand which support the goal of creating a pipeline of future architects for our profession.  These components include the Kid Architect Book Series, My Kid Architect Story, STEAM Exercises and Outreach / Programs.
Kid Architect Book Series
An insightful and unique children's book series authored by an AIA Fellow with over 44 years of practice experience.  These are hardcover books oriented for children and young people in grades K – 12. In addition, individuals of all ages enjoy architecture and similarly the book design also engages adults of all ages.  The content provides exploration, critical thinking and STEAM concepts in a fun, casual and engaging way.  The book series features Kid Architect through travels to cities, states, buildings, landscapes, universities / colleges, and public art throughout the entire United States and beyond.
Many children and young adults do not have an opportunity for personal interactions with an architect.  One of the primary goals of the Kid Architect book series serves as a guide to help them learn and understand what architect and other design professionals do. An additional goal of the book is to support the AIA – Equity, Diversity and Inclusion initiative by not providing a Kid Architect character in the book series. As a result, Kid Architect is not a male or female; not a race, color, or creed; and not an ethnicity or nationality.  Through this approach, children can see themselves as the architect and visit, explore and learn about architecture, landscape design and public art.
There have been three Kid Architect books created and published to date:
Kid Architect Goes to Columbus, Indiana
A children's book about architecture and design as Kid Architect goes to Columbus to explore and discover the nationally and internationally known architecture in the city. Columbus is the sixth most important architectural city in the United States according to the American Institute of Architects.
Kid Architect Goes to Indiana
A children's book about architecture and design as Kid Architect goes to Indiana to explore and discover important buildings, landscapes and public art throughout the state.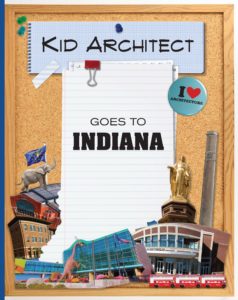 Kid Architect Goes to Moody Nolan Architects
A children's book about architecture and design as Kid Architect visits the firm story (Moody Nolan) and history from its inception until now.  In addition, readers will learn about the buildings, landscapes and public art of Moody Nolan as well as how the firm collaborates with many other firms.  The firm is the largest African American owned and managed architecture firm in the Unites States.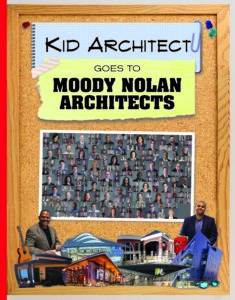 Kid Architect books can be obtained from the following sources:
Kid Architect Website:  www.kidarchitectbook.com
Amazon Books:
To contact the Kid Architect team or the author, Gary L. Vance, FAIA:
kidarchitect@yahoo.com or gvancefaia@gmail.com