CHALLENGING OCULAR-CENTRISM IN DESIGN EDUCATION
Recently, an article was shared by former student, Andrew Gipe-Lazarou, Ph.D.  Upon review, we contacted him to share (see below).  You may remember Dr. Gipe-Lazarou as he authored an article from last fall.
The Diagram: The Single Most Important Skill for Students of Design
https://www.archcareersguide.com/the-diagram-single-most-important-skill/
VIDEO: https://vtx.vt.edu/videos/k/2022/04/1_9m8yckp4.html?fbclid=IwAR03phfbnmuMocxjxRcpVwJ1wfKUVA1bZgn2OMrWENKtybxVZpOZaMlm84M]
In Spring 2022, the Virginia Tech School of Architecture + Design collaborated with the Department for the Blind and Vision Impaired (DBVI) to organize a design workshop for vision-impaired learners from across the state of Virginia. The workshop was prepared by a group of seven architecture students whose prompt was to instruct the architectural design process in a non-visual way. I acted as the project's faculty advisor and lead coordinator, having participated in the first-ever iteration of this workshop (in the role of student instructor) in 2009 at the University of Maryland School of Architecture, Planning & Preservation.
While preparing teaching material for the workshop, the student organizers were guided by representatives of DBVI through an immersive learning experience to better-understand the diverse physiological perspectives of the participants. The experience included tutorials in tactile teaching methods and digital aids, simulations of different types and degrees of vision impairment (e.g. total blindness, tunnel vision, loss of central vision, blurred sight), mobility training with a cane, and a messy, goggle-blind attempt to make microwave brownies in a mug.
The five-day workshop took place from April 6 – 10, 2022 at the university's main campus in Blacksburg, VA, and hosted twelve participants varying in age from 16 to 24.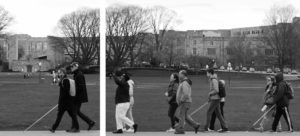 The program incorporated a variety of multi-sensory learning activities, including a group listening session (of well-known spaces, like the main terminal of New York's Grand Central Station and central chamber of the Taj Mahal); interactive presentation of architectural precedents (like Corbusier's Villa Savoye and Shigeru Ban's Paper House) using 3D-printed models and embossed drawings; and a sequence of drawing and design exercises (exploring the floor plan of a multi-purpose room, the depth and texture of a building facade, and the spatial sequence of an interior corridor) using wax sticks on raised graph paper and assorted modeling materials.
These activities were supplemented by guided tours of Virginia Tech's Creativity and Innovation District (CID) building (where participants explored student-designed installations made of atypical building materials including bamboo and cork); an off-campus escape room experience; introduction to emerging design technologies (like 3D printing, robotic fabrication, and CNC milling); and interaction with professional mentors like Chris Downey, one of the few practicing blind architects in the world. (On his suggestion, the workshop organizers read The Eyes of the Skin (1996) by Juhani Pallasmaa).
The workshop culminated in a final presentation and group critique of individual design proposals for a private residence. Two projects were awarded honorable mentions for "Most Innovative Design"; Maria Jennings designed a home with an elevated, rotating story (reminiscent of Buckminster Fuller's Dymaxion House) and Robert Eggleston designed a multi-floor metal cylinder (inspired by the modules of the international space station).
The "Downey Award for Best Overall Project" was awarded to Daphne Dogru whose proposal imagined a radial plan responding to the trajectory of the sun and included a star-gazing tower (which inspired conversation of Richard Neutra's Silver Lake Studio).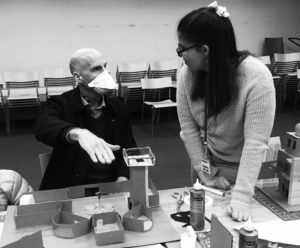 Andrew Gipe-Lazarou, Ph.D.
Visiting Instructor, Virginia Tech
School of Architecture + Design
Thanks to Dr. Gipe-Lazarou for sharing details on this amazing program.