CAREERS BEYOND: DISRUPT x OOA
Our last entry focused on Careers Beyond; because of the strong interest in the topic, we could NOT resist to highlight a conference that took place over the weekend bringing further attention to Careers Beyond Architecture.
Beyond highlighting this conference, ARCHCareersGuide.com provides multiple resources on the topic.  Most importantly is the publication, Careers in Architecture and Beyond, a booklet that profiles of 32 professionals trained as architects along with potential career titles.
https://www.archcareersguide.com/careers-in-architecture-beyond/
https://www.archcareersguide.com/beyond-architecture/
Disrupt x OOA
https://www.disruptsymposium.com/ooa
From their website: Disrupt x OOA is an exciting, two-day virtual event bringing together architects and individuals from diverse backgrounds who have taken their training in architecture and applied it in innovative and non-traditional ways.  Our fantastic lineup of speakers includes industry leaders and trailblazers from various fields including fashion, product design, technology, and more.  They will share their unique stories, best practices, and provide valuable insights on how to successfully disrupt the norm and build a fulfilling career.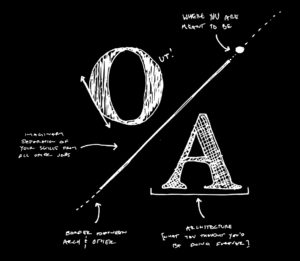 Below are the speakers with brief biographies; learn how they have converted their education in architecture to one BEYOND.
Dror Benshetrit
Founder at Studio Dror and SuperNature Labs
https://www.studiodror.com/home/
Founder of Studio Dror and SuperNature Labs, Dror is a designer, thinker, inventor, and futurist whose ingenuity informs a striking range of affecting, unconventional work. Dror has an award-winning 20+ year career in product design, interiors, architecture, master planning and city planning. His eponymous NY studio collaborated with top-tier companies and developers around the world, envisioning, researching, and developing systems to connect people with nature through the built environment.
Dror aims to foster authentic connections and improve people's well-being with these designs. Some of Dror's major works include a novel structural support system named Quadror, the masterplan of Galataport in Istanbul, Turkey, and the Cappellini Peacock chair. Additionally, his first built architectural project, Nurai Island, broke the record for the most expensive residential units sold in the UAE per sq. ft.; units sold out in 72 hours, with sales totaling 976MM.
Rachel Armstrong
Scientist and TED Fellow
https://www.ted.com/speakers/rachel_armstrong
Rachel Armstrong is Professor of Regenerative Architecture in the Department of Architecture at KU Leuven, Belgium, a Senior TED Fellow and a Robert Rauschenberg Foundation, Rising Waters II confab Fellow.
Armstrong holds a First-Class Honours degree with two academic prizes from the University of Cambridge (Girton College), a medical degree from the University of Oxford (The Queen's College) and has a PhD in Architecture from the University of London (Bartlett School of Architecture). Her career is characterized by design thinking as a fusion element for interdisciplinary expertise. She pioneers an ecological, technological, and life-centered practice called "living architecture" that considers the implications for designing and engineering in a world thrown off balance.
She is author of several books including Safe as Houses: More-than-Human Design for a Post-Pandemic World (2022) and The Art of Experiment: Post-pandemic Knowledge Practices for 21st Century Architecture & Design with Rolf Hughes
Melodie Yashar
Space Architect, Technologist, and Researcher
Melodie Yashar is a space architect, technologist, and researcher. Melodie's work focuses on the development of construction technologies to build off-world habitats and ensure a permanent human presence on the Moon and eventually Mars. Melodie is the VP of Building Design & Performance at ICON, a construction technologies company focused on large scale additive manufacturing for Earth and in space. Melodie oversees the architectural direction of ICON's built work as well as the performance of ICON's building systems. Collaborating across technology and construction teams, her department supports design and construction of dignified and resilient terrestrial housing solutions in addition to supporting the development of ICON's off-world construction systems.
Melodie teaches undergraduate and graduate design studios at Art Center College of Design. In previous roles Melodie was a Senior Research Associate with the Human Systems Integration Division at NASA Ames via San Jose State University Research Foundation (SJSURF), as well as a co-founder of Space Exploration Architecture (SEArch+), a research group developing human supporting designs for space exploration.
Melodie obtained a Master of Architecture from Columbia University and a Master of Human-Computer Interaction with an emphasis in Robotics from the School of Computer Science at Carnegie Mellon. She geeks out on new material & fabrication technologies. She likes tiny robots. She would like to visit the Moon (though not yet Mars) in her lifetime.
Peggy Deamer
Professor Emerita of Yale University's School of Architecture and Principal of Deamer, Studio
Peggy Deamer is Professor of Architecture at Yale University. She is a principal in the firm of Deamer, Architects and before that, Deamer + Phillips, Architects. She received a B.Arch. from The Cooper Union and a Ph.D. from Princeton University. The work of her firms has appeared in Dwell, the New York Times; Architectural Record and House and Garden, amongst others.
Articles by Deamer have appeared in Assemblage, Praxis, Log, Perspecta, and Harvard Design Magazine, amongst other journals and anthologies. She is the editor of The Millennium House, Architecture and Capitalism: 1845 to the Present and The Architect as Worker: Immaterial Labor, the Creative Class, and the Politics of Design.
She is co-editor of Building in the Future: Recasting Architectural Labor, BIM in Academia, and Re-Reading Perspecta. She is the founding member of the Architecture Lobby, a group advocating for the value of architectural design and labor. Her current research explores the relationship between subjectivity, design, and labor in the current economy.
Cameron Sinclair
Philanthropy Consultant; Post-Disaster and Sustainable Designer; Author and Speaker
Cameron is a philanthropy consultant, post-disaster and sustainable designer, author and speaker. Best known for founding a humanitarian organization called Architecture for Humanity, this British Architect was a 2006 recipient of both the TED Prize and Wired Magazine's Rave Architecture Award.
After studying at the University of Westminster and at University College London's Bartlett School of Architecture, he worked for several New York City design firms. His Architecture for Humanity organization helped with rebuilding efforts in the wake of the Indian Ocean tsunami (2004), Hurricane Katrina (2005), and the Japanese tsunami (2011).
His new organization, the Worldchanging Institute, has also supported in the wake of the recent Turkey-Syria Earthquake (2023).
He grew up in Southeast London and later attended the Kingswood School in Bath, England. He was a board member of Angelina Jolie and Brad Pitt's Jolie-Pitt Foundation.
Wandile Mthiyane
Founder of The Anti-Racist Hotdog, Obama Leader
https://www.antiracisthotdog.com/
Wandile's personal journey has taken him across continents and exposed him to influential leaders who shaped his worldview.
As a graduate of a master in architecture degree and founder of The Anti-Racist Hotdog, he is pioneering a groundbreaking startup that creates non-physical homes for companies and institutions through innovative anti-racist tools.
With a unique approach to diversity, equity, and inclusion, Wandile and his team at The Anti-Racist Hotdog are using their Anti-Racist Hot Dog Cards, intercultural cooking show, and immersive consultations to combat racism in the workplace and promote a culture of belonging and inclusion.
As an accomplished public speaker and political analyst, Wandile's background as an Obama Leader, One Young World Ambassador, Resolution Fellow, and TEDx Fellow has shaped his ability to lead and inspire change. He is also the CEO of Ubuntu Design Group and Ubuntu Architecture Summer Abroad Design Justice School, where he uses architecture to empower inadequately sheltered families to overcome economic and social challenges and barriers, through innovation and collaboration in designing for the future vision of their home and community.
Alkistis Mavroeidi
Director of Product Design at KAYAK
Alkistis Mavroeidi is a Director of Product Design at the online travel company KAYAK, overseeing KAYAK's metasearch product. Using UX Research, design thinking and UX practice methodologies, Alkistis works alongside KAYAK's team of product managers, product designers and engineers to help build and deliver products that make it easier for people to experience the world.
Prior to her time at KAYAK, Alkistis worked at the tech startup Building Conversation and focused on leveraging VR and AR technologies to inform product design decisions. She holds a bachelor's degree in architectural engineering from Greece's NTUA polytechnic school and a Master in Design Studies (MDes) from the Harvard Graduate School of Design.
Ellen Abraham
OOA Advisor, Senior Project Manager at SOM
Ellen Abraham is a cultural leader with a specialized history in design management, entrepreneurship, business development and design-based advocacy. She is currently a Senior Project Manager at Skidmore, Owings & Merrill (SOM) and was voted the Vice-President of SOM's Women's Initiative employee-resource group. She co-founded SOM's Equity Design Lab, which is dedicated to enabling SOM's teams to deliver equitable, healthy, and resilient built environments where communities can thrive.
Ellen holds a B.Arch from City College of New York, where she was awarded the Outstanding Thesis Project Award. She has an MBA with an emphasis on Entrepreneurship, Innovation, and International Management from Northwestern University.
She is passionate about helping international students and job candidates, advancing equity in the field of architecture, and advocating for community-positive design works. To further celebrate design diversity, she founded a startup called Architect Pins®.
Chi Bhatia
OOA Advisor, VP Strategy & Growth at OnePlan & VenueTwin
https://www.oneplanevents.com/
Chi Bhatia works at the intersection of design, business, and technology with a focus on Sports & Entertainment. He is currently VP of Strategy & Growth at OnePlan, a SaaS start-up that builds 2D &3D technology for events & venues allowing users to visually map, plan and monetize their assets. ⁠⁠
Chi's architectural experience has been global across the US, India, & the UK, focused on the design & development of stadiums and arenas within larger mixed-use districts. Across these projects, Chi has worked on storytelling, brand research, feasibility, master planning,⁠ computational design & BIM workflows. Chi spent nine years with HKS where he was on the design team for SoFi Stadium. His roles within architectural practice have combined design with  strategy consulting and venture development with a focus on technology's role in the built environment.
Central to Chi's work is an interest & experience in shaping ideas that have a digital, physical & virtual application.⁠⁠Chi holds a Bachelor of Architecture and a minor in Business from The University of Southern California. He has lived in Delhi, Kathmandu, Singapore, and Los Angeles and now calls London home. He enjoys football and tennis, making and discovering food – and spending time with his Labrador, Zazu.⁠
Alessio Rosati
Head of MAXXI Museum
Alessio Rosati was born in Rome where he studied at the local architecture school.  He founded an independent design firm while working for some of the main cultural Italian institutions, namely the Auditorium Parco della Musica and Rome International Film Fest.
In 2010, he started his collaboration with MAXXI – Museo Nazionale della Arti del XXI Secolo (The National Museum of 21st Century Arts) where he headed the Research Department, curating exhibitions and editing publications.  Currently, he is the Head of Institutional Projects, curating events ranging from art to architecture, literature to film and more.
He regularly gives lectures in both Italian and North American architecture schools and engages in the architectural design process, either entering competitions or designing and building spaces.