CAREER DESIGNING: ASSESS EXPLORE
Most likely, you know of the term "architectural plan" or even "floor plan."  But what about Career Designing?
Regardless of where you are along the path to becoming an architect—starting or completing your architectural education, gaining experience in an architecture firm or in the process of taking the Architect Registration Exam (ARE), you should pursue deliberate career designing to maximize career success.
Career Designing helps you determine your skills and interests, what career best suits your talents, and what skills and training you need for your chosen career. By career designing, you can focus on what you want to do and how to get there.
But most importantly, how do you do career designing?  From our perspective, there are four basic steps, the first two of which we will discuss in this essay.  We will discuss the final two in a future essay.
Assessing
Exploring
Deciding
Planning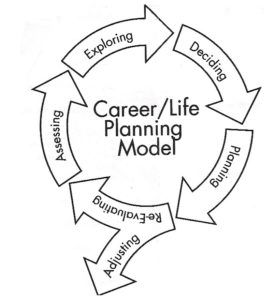 Know Thyself. — inscription over the Oracle at Delphi
ASSESS: Assessing is learning about yourself. Assess where you want to be; analyze what is important to you, your abilities, the work you would like to do, and your strengths and weaknesses. Just as programming assists the architect in understanding a particular design problem, assessment helps determine what you want from your career. This ongoing process must be reiterated throughout your entire career. The details of assessment include values, interests, and skills. But what exactly are values, interests, and skills, and how do you determine them?
Interests
Skills (Functional – Self-Mgt. – Special Knowledge)
Values
Accomplishments
Past Experiences
Values: Values are feelings, attitudes, and beliefs you hold close to your heart. They reflect what is important to you; they tell you what you should or should not do. Work values are the enduring dimensions or aspects of our work that you regard as important sources of satisfaction. Values traditionally held in high esteem by architects include creativity, recognition, variety, independence, and responsibility.
Interests: Interests are those ideas, events, and activities that stimulate your enthusiasm; they are reflected in choices you make about how you spend your time. In simplest terms, interests are activities you enjoy doing. Typically, architects have a breadth of interests because the field of architecture encompasses artistic, scientific, and technical aspects.
Career development theory dictates that your career path follow your interests; if you do, you will see success.
Skills: Unlike values and interests, skills or abilities can be learned.  There are three types of skills – functional, self-management, and special knowledge.  Having a functional skill means being able to perform some specific type of activity, action, or operation with a good deal of proficiency; according to the Bureau of Labor Statistics, an architect needs the following skills: analytical, communication, creativity, critical-thinking, organizational, technical, and visualization. In contrast, self-management skills are your specific behavioral responses or character traits such as eagerness, initiative, or dependability.  Last, special knowledge skills are what you have learned and what you know.
The importance of knowing your skills is echoed by Richard Bolles in his book, The Quick Job-Hunting Map4: "You must know, for now and all the future, not only what skills you have, but more importantly, what skills you have and enjoy." With respect to skills, think back over the past five years. What were your five most satisfying accomplishments? Next to each, list the skills or abilities that enabled you to succeed. Similarly, review your failures to determine traits or deficiencies you want to overcome.
Students spend four or more years learning how to dig data out of the library and other sources, but it rarely occurs to them that they should also apply some of the same new-found research skill to their own benefit — to looking up information on companies, types of professions, sections of the country that might interest them.   — Albert Shapero
EXPLORE: Even if you already have chosen architecture as a career, it is still a valuable and necessary process.  Instead of exploring careers, you can explore firms, possible career paths within architecture, and other areas that impact your architectural path; understanding exploring will help you be flexible and adaptable when needed due to the economy or other legitimate reasons.
How do you explore? In Career Planning Today, the author describes a systematic process that includes collecting, evaluating, integrating, and deciding. Following these four steps guarantees the highest possible level of career awareness.
To begin, collect career information from a variety of sources, both people and publications.  Conduct an information interview – interviewing someone to obtain information.  People to interview might include a senior partner in a local firm, a faculty member, a classmate or colleague, or a mentor.  Other ways to explore are through attending lectures sponsored by the local AIA chapter or a university, volunteering time through local AIA committee or other organizations of interest, becoming involved with a mentor program, and observing or shadowing someone for a day.
Information Interviewing
Shadowing
Cooperative Education
Internships
Career Information Resources (DOT, OOH, GOE)
Career Related Positions
Thus, now that you know the first steps of Career Designing: Assess and Explore, what will you do next?  Do an inventory of your values, interests, and skills or perhaps do some research on careers in architecture and beyond.
Whatever you do, let us know and be sure to check out the next essay of Decide and Plan.