ARCHITECTURE SUMMER PROGRAMS – KICK OFF
While it is officially still spring, we are celebrating and kicking off the myriad of summer programs.  It is NOT too late to consider and apply to one of the Architecture Summer Programs.  To view the full list, visit the following.
Architecture Summer Programs
https://www.archcareersguide.com/summer/
A handful of programs began this first week of June while many others begin later this month.  Remember, you can sort the listing by Dates or any other field.
For motivation, here are some details on certain programs.
The University of Oklahoma
Design in Action: Creativity, Innovation, and Sustainability shaping the Built Environment
https://pacs.ou.edu/precollegiate/9th-12th-grade/architecture-summer-academy/
This academy offers thirty rising 9-10th grade students a one-week opportunity to explore the disciplines in The University of Oklahoma's College of Architecture. The academy will introduce students to an interdisciplinary study of the built environment by incorporating the disciplines of Architecture, Interior Design, and Construction Science.
Program participants will live in university residence halls to experience real college life. Students from the College of Architecture will assist the academy students to facilitate collaborative interaction with students representing the disciplines associated with the College of Architecture.
Available to: Rising 9th – 10th graders residing in Oklahoma
Dates:  June 5 – 10, 2022
Location: OU Norman Campus
Tuition: There is no cost for accepted students.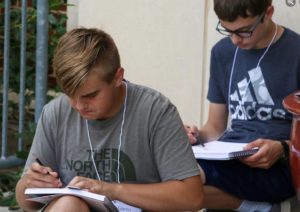 National Building Museum
Arches and Trusses: The Tension Builds
Washington, DC
Saturday, June 11, 2022 – 11:30 – 12:30pm
http://go.nbm.org/site/Calendar/1572661601?view=Detail&id=128332&fbclid=IwAR3ju2jGMFW1x4pAZQu3T3Lr6wPOXwhaFOG7b7BRfusw9VELG2kf538NVlg
What keeps a building standing up?  Investigate how materials, invisible forces and building structures work together in the historic home of the National Building Museum and begin to understand how these forces affect all the buildings that make up our neighborhoods and communities. 
Your participant ticket includes access to all of the Museum's exhibitions on this specified date. Additional exhibit tickets must be purchased separately. Ticket sales end at midnight the night before. There are no refunds or exchanges.
Museum Member Sign In  | $7 Member Participant | $15 Non-Member Participant
North Carolina State University
Design Camp
Design Camp is a multi-discipline pre-college design program organized by the NC State Design Lab for high school and middle school students. Held each summer, Design Camp informs students about the study of design and raises awareness of the impact of design on all aspects of our everyday lives. The design thinking skills and creative experience gained can empower students on their path toward becoming innovative problem solvers and prepare them to tackle the challenges of the future.
June 17 – July 1, 2022: Middle School – Day
August 8 – 12, 2022: Middle School – Day
June 21, July 24 – 30, 2022: Design Immersions Residential
July 10 – 16, 2022: High School – Residential
August 8 – 12, 2022: High School – Day
University of Colorado – Denver
Architecture in the City
August 1 – 5, 2022
Architecture in the City is a summer, noncredit program offered by the College of Architecture and Planning (CAP). This is an interdisciplinary program designed for students entering their sophomore, junior, senior year of high school and recent high school graduates. The week-long-camp will give participants the opportunity for a hands on experience in model building and drawing techniques while exposing them to architecture, landscape architecture, urban design, and urban planning through a design build project. This commuter program will be offered at the University of Colorado Denver campus during the day, Monday through Friday. Participants with and without design backgrounds are encouraged to join.
As mentioned at the start, we STRONGLY consider you still take the time to attend one of the Architecture Summer Programs.
Best.