ACADEMIC YEAR PROGRAMS
For over ten years, ARCHCareersGuide.com has provided its popular Architecture Summer Program.  Now, we announce another new resource – a listing of academic year programs.
Academic Year Program
Like Architecture Summer Programs, these programs held during the academic program are designed to introduce you to architecture and design.  Some are in-person programs a specified period.  Others are design competitions while others are resources.  Architecture programs while others are Many of the programs are led by
Efforts have been made to obtain the most up-to-date information from the program; to ensure that you have the most up-to-date information, you are encouraged to contact the program.
Below is the starting list of programs.  We will continue to add programs, events, and resources that help you learn about design and becoming an architect.  If you learn of programs not listed, please let us know.  — archcareersguide@gmail.com
---
American Institute of Architects – Washington, DC – K-12 Problem Based Lesson Guides
https://www.aia.org/pages/6319595-architecture-problem-based-lessons
In collaboration with their members and educational experts, the AIA has created 11 engaging problem-based classroom activities for K-12 students that use real-world problems to spark interest in the architecture profession.
ONLINE: Architectural Foundation of San Francisco – San Francisco, CA – Saturday Design Studio
https://www.afsf.org/programs/saturday-design/
Offered three times – four (4) weeks each, two (2) hours per week (10:00 am – 12:00 pm)
Saturdays, October 16 – November 6, 2021 – High School
Saturdays, January 22 – February 19, 2022 – High School
Saturdays, April 16 – May 7, 2022 – High School
ONLINE / IN-PERSON *Center for Architecture – New York, NY – After School Program
www.centerforarchitecture.org/afterschool
Cutting Edge Architecture – In-Person (Wed October 6 – December 1, 2021) – Grades 3-5
Digital Design: Pop-Up Architecture – Online (Mon October 4 – November 29, 2021) – Grades 6-8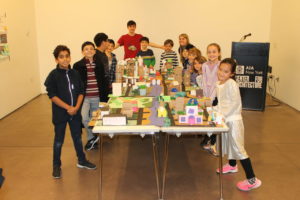 *Center for Architecture – New York, NY – Design Discovery
https://www.centerforarchitecture.org/k-12/teen-programs/design-discovery/
SoHo – In-Person (Saturday, October 16, 2021) – Grades 9-12
Bridge Building Challenge – In-Person (Saturday, November 6, 2021) – Grades 9-12
ONLINE: Illinois at Chicago, University of – Chicago, IL – TryArch
Fall 2021 Dates to be determined – College Students/Working Professionals/Adult
IN-PERSON: Michigan, University of – Ann Arbor, MI – Architecture Preparatory Program (ArcPrep)
https://taubmancollege.umich.edu/architecture/high-school-programs/michigan-architecture-prep
Fall semester – Detroit Public School Juniors
*National Building Museum – Washington, DC – Summer Camp Programs for Rising 2nd – 7th graders
https://www.nbm.org/learn/families/
The Museum looks forward to resuming in-person programs when we can. In the meantime, we encourage your family to discover architecture, design, and engineering in fun and interactive ways with these online resources.
IN-PERSON / ONLINE: *North Carolina State University – Raleigh, NC – Weekend Workshops
https://design.ncsu.edu/designlab/workshops/
IN-PERSON September 25 – Architecture: Emergence of the Senses – High School Students
October 2 – Art + Design: Working in the Abstract: Plein Air Painting – High School Students
November 13 – Industrial Design: Two for One: Dual-Purpose Design – High School Students
ONLINE October 16 – Art & Design: Knot a Story – High School Students
October 30 – Industrial Design: Assembly Required: Flat-Pack Furniture – High School Students