Architecture + Design Career Days / College Fairs – Fall 2019
Amazingly, summer is over and fall will begin soon enough. With the coming of fall comes the many Architecture + Design College Day / Fairs (see below).
As one who led the event in Chicago for many years and attended the others on behalf of different programs, I can attest that attending these events is well worth the time. Even if you (the student) cannot attend due to the SAT or a weekend commitment, have you parents attend. And attend regardless of your educational status. I actually remember meeting an enthusiastic 7th grader one year. Attend if you are a high school student, a transfer student or even a college student.
Held in the fall, these architecture Career Days/College Fairs are a great opportunity for you to learn more about pursuing an architecture degree. You can interact with representatives from different programs and ask specific questions (see examples below); you will connect with faculty, program administrators, and possibly students and alumni. Having these conversations will help you gain a better insight and help make a decision about which program is right for you.
Attending the college day is a must if you are interested in architecture. I learned a great deal about the colleges with whom I visited and the career paths involved in architecture; as a result, I became excited about my future in architecture. – Alysia Bounds
At these events you will have a chance to meet with many programs, allowing you to maximize your engagement in just a single day. And, in addition to meeting with program representatives, these events often provide workshops on topics such as selecting a school, career options, or financing your education, as well as portfolio reviews and guest speakers. Thus, kick start your research by attending one of the events in Boston, Philadelphia, Dallas, Chicago, or New York!
Hint: Most programs will have you complete an inquiry card with your name and contact information; as such, consider bringing return address labels which will save you time.
Another hint: Even if you cannot attend, still register as most programs will still mail you materials.
Boston, MA – Saturday, September 28, 2019
Boston Society of Architects – Architecture / Design College Fair
https://www.architects.org/programs/architecture-design-college-fair
Chicago, IL – Saturday, October 5, 2019
Consortium for Design and Construction Careers – Chicago Architecture + Design College Day
http://chicagocareerday.org
Dallas, TX – Saturday, October 12, 2019
AIA Dallas – 2B an Architect
https://www.aiadallas.org/v/event-detail/Architecture-Design-College-Fair/683/
Brooklyn, NY – Friday, October 18, 2019
National Organization of Minority Architects
https://www.nomaunbounded.com
Philadelphia, PA – Saturday, October 19, 2019
Temple University – Philadelphia Architecture + Design Fair
https://tyler.temple.edu/philadelphia-architecture-design-fair
New York, NY – Saturday, November 2, 2019
Center for Architecture – Architecture & Design College Fair
https://www.centerforarchitecture.org/k-12/architecture-college-fair/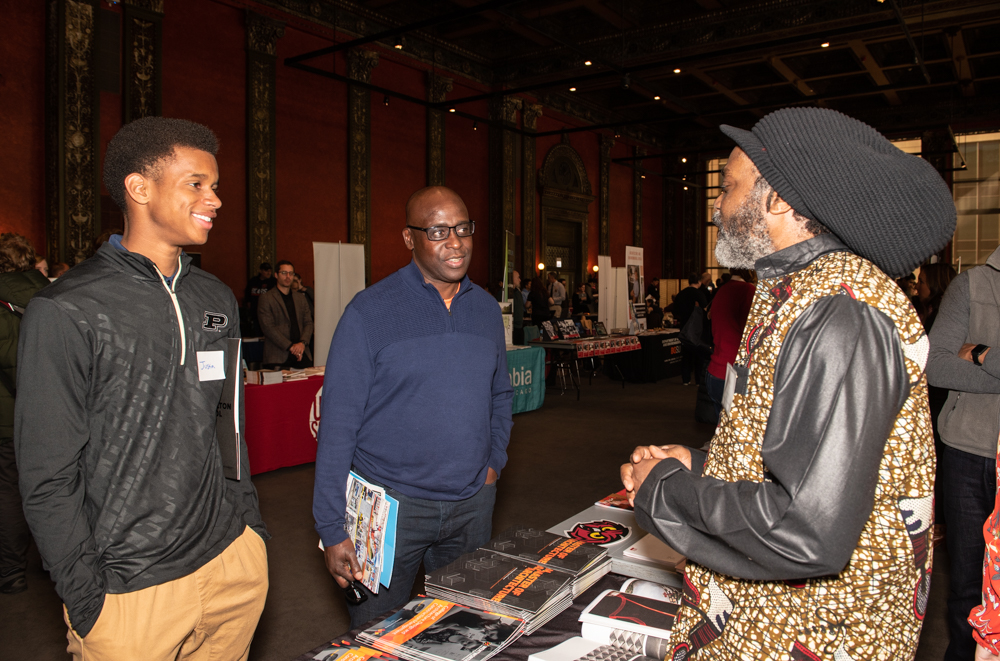 Questions to Ask School Representatives
What degree(s)/major(s) do you offer?
What is special or unique about your program?
What is the admission process? Is a portfolio required?
What financial aid/scholarships are available?
How does your school assist students with post-graduation plans?
Do you have a graduate program?
Does the program offer hands-on and/or workplace experience as part of the curriculum?
What kind of professional experience does your faculty have?
What are the opportunities for study abroad?
Let Dr. Architecture know if you plan to attend or have any questions —