Application Process
Over the past few weeks, you were exposed to the criteria by which to determine where to apply, now learn about the details of the application process — especially given the deadlines are fast approaching.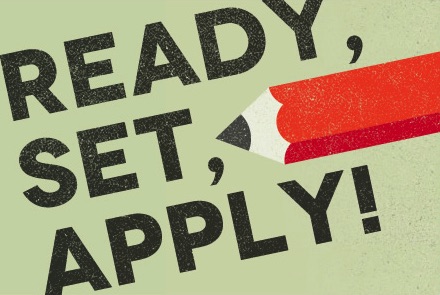 After you narrow your choices and receive application materials, the next step is to complete the applications of the institutions to which you have chosen by the stated deadlines. Be cognizant of these deadlines, as many universities have set earlier and earlier deadlines within the academic calendar; some deadlines are as early as November 1.
Also, remember that the purpose of the admissions process is to select highly talented, diverse individuals who will succeed in that program. Institutions use the application materials—application, statement, transcripts, portfolio, test scores and recommendations—to measure performance to date and project future performance. Schools want to know about you as a person; contact the school directly for more insight on what you can do to maximize your application for admission.
APPLICATION
At first, you might think that applications are designed to be complex and difficult, but if you simply read the instructions and review what is being asked, completing the application is easy. In most cases, the application is a series of questions related to you and your background. Do not make it difficult! If you do not understand an aspect of the application, contact the admissions office for clarification. Now, most universities use online applications. To ease the process, print out the application and complete them by hand first to ensure accuracy when you submit them online.
APPLICATION ESSAY / PERSONAL STATEMENT
As part of the application, you will be asked to write an application essay or personal statement.  These personal expressions are the perfect opportunity to showcase your talents and creativity while effectively communicating who you are, what interests you, and why.
For undergraduate applicants, you may have a choice of topics. For example, applicants to Carnegie Mellon University may write on one of these topics:
Evaluate a significant experience or achievement that has special meaning to you.
Discuss some issue of personal, local, or national concern and its importance and relevance to you.
Indicate a person who has had significant influence on you, and describe the influence.
For graduate applicants, the personal statement is an integral part of your application. Rather than a topic, most graduate programs request a statement describing your background, interest in architecture, and how the institution will assist in fulfilling your goal of becoming an architect. Most will have a word limit, so be sure to check.  In authoring your personal statement, be sure to start early.
TEST SCORES
SAT/ACT: While not all, most institutions will have you take the standardized SAT or ACT. Which test you take depends on the region of the country you live in. Some students perform better on one than on the other; for this reason, consider taking both. Many institutions use these test scores as an indicator of your probable success in college, so you will want to do your absolute best. Some people, however, are not good test takers. If your results are not at the level required for a particular institution, discuss them with the admissions office.
GRE: If you are applying as a graduate candidate, you may be required to submit Graduate Record Examination (GRE) scores with your graduate program application. Institutions vary in how much weight they give to these scores. Study hard and take the practice test. You may consider taking the GRE while you are still an undergraduate in anticipation of pursuing graduate studies. Most schools accept scores even if they are a few years old.
TRANSCRIPTS
All institutions to which you apply will require that transcripts be submitted. The admissions reviewers will, of course, look at your overall grade point average; however, just as important are trends in your academic record. If there is something in your academic background that is less than flattering, feel free to include a letter explaining the circumstances surrounding the situation.
PORTFOLIO
Unlike other majors, undergraduate architecture programs may require a portfolio; this is especially true for bachelor of architecture degree programs. All graduate architecture programs will require a portfolio. Requiring a portfolio does not mean you have to be a talented architect prior to admission. Rather, the portfolio demonstrates your level of creativity and commitment to architecture.
Portfolios take an unexpectedly large amount of time. Universities expect high quality portfolios made with high quality software programs–and no two set of requirements were the same.
Also, do not seek a "correct" way to put together your portfolio… because there is not one. Include a cover page and captions, and then the rest is up to you. One school might want your portfolio to tell a story and include lots of white space, while another asks for one piece per page with no unused space.
Robyn Payne, University of Kansas
What is a portfolio? For admission purposes, it is a compilation of creative work you have done on your own or as part of a class. It may include freehand drawings, poetry, photographs, or photographs of three-dimensional models or work. A portfolio is a means used by the admissions office to determine technical skills, creative ability, motivation, and originality.
The portfolio is a creative act, showing your skills and imagination, but it is also an act of communication and a tool for self-promotion.
Harold Linton, Portfolio Design – portfoliodesign.com
If you are applying as an undergraduate, gain a better understanding of what to include by contacting the admissions office. Despite the temptation, it is typically recommended not to include any drafting or computer-assisted design (CAD) work; again, check with the individual school for exact requirements.  As a few programs have very specific requirements on the portfolio, be sure to follow directions; Cooper Union does not require a portfolio but asks candidates to complete a home test that includes drawing requirements.
Probably more so than when applying from high school, the portfolio is an important criterion when applying to a graduate program.  If you background is NOT in architecture, do not worry about including architectural work, but rather include creative works – painting, studio art, photography, drawing furniture design, etc.  Completing a portfolio is a good reason to take an art or drawing course prior to applying.
When applying to a graduate program with an undergraduate degree in architecture, you must be your own critic to determine what work to include.  Again, follow the requirements of the institution to which you are applying. Some graduate programs may limit the physical dimensions and the number of pages; very few programs including University of California at Berkeley now allow the submission of digital portfolios but most still require a true portfolio.
Actually, your portfolio is more than just a collection of your creative work; it is an opportunity to show your design skills through its layout, organization and format.  How the portfolio is done says much about you as a future architect.  Bottom line solicit feedback on your portfolio from classmates, faculty and the institution to which you are applying.
RECOMMENDATIONS
Most admissions offices require evaluations from counselors or teachers (high school students) and faculty or employers (graduate students) to aid them in making their decision.
Counselor or teacher: The application package typically includes an evaluation form for counselors or teachers to complete. For many high schools, this is the last step, and the counselor will forward your application, high school transcripts, and the evaluation form to the college or university.
Faculty or employer: Applicants to graduate programs must supply letters of recommendation as part of the application. While most programs allow current or former employers to submit a letter on your behalf, you are far better off obtaining letters from your undergraduate faculty. This may be difficult if you have been out of school for a few years, but it is worth the time to track them down. In all cases, the individuals should know you fairly well, particularly your academic abilities.
Most schools enclose a checklist with the application materials asking for an evaluation on specific personal qualities such as:
Clarity of Goals for Graduate Study
Potential for Graduate Study
Intellectual Ability
Analytical Ability
Ability to Work Independently
Ability to Work with Others
Oral Expression in English
Written Expression in English
Teaching Potential
Research Potential
Now you know about selecting an architecture program. From the degree programs to the resources available, you have the information you need to make an informed choice. But another important aspect is determining how you will pay for your studies. — That is next week!
---